African Clean Energy: Transforming How Families Cook
African Clean Energy (ACE) is a social enterprise that produces and distributes solar-biomass hybrid energy systems in developing countries. ACE, which was recently re-certified as a B Corporation (B Corp) for meeting the highest standards of verified social and environmental performance, has sold over 60,000 cookstoves and employed nearly 250 people globally since launching in 2011.
Judith Joan Walker, ACE's Chief Operations Officer, spoke to the Clean Cooking Alliance (CCA) about ACE's B Corp re-certification, their work in reaching last-mile consumers, and their newest product, the ACE Connect cookstove, which incorporates pay-as-you-go smart technology and innovative consumer financing options.
This interview is part of a series of conversations CCA is having with business leaders across the clean cooking sector. Katherine Manchester, CCA's Sr. Manager, Communications, and Allegra Brandon, CCA's Communications Fellow, contributed to this interview.
---
Clean Cooking Alliance (CCA): Could you describe ACE's products and services and what benefits they bring to customers?
Judith Joan Walker (Walker): Our main product – the ACE One Energy System – provides improved cooking technology and a solar energy system for phone charging and LED lighting. The main benefits customers experience are a reduction in the need for inefficient cooking fuels and a reduction in household air pollution. In fact, our cookstoves use 75 percent less fuel compared to an open fire and reduce smoke by over 95 percent. With the addition of solar energy, most of our customers also save money on their energy expenses and save time.
We built the ACE One as a multi-fuel stove that will burn sticks, twigs, cow dung, corn cobs, pellets, briquettes, and charcoal. It will burn almost anything, and it will burn it with negligible smoke, making it easier for consumers to transfer away from the fuels they've typically used in the past. It's a great solution to ensure our customers gain sufficient energy access for the first time.
CCA: What was the motivation behind a multi-purpose energy technology?
Walker: People look at electricity and thermal energy as two separate things and, unfortunately, that has left clean cooking as a niche sector that does not receive much investment. We realized that by making this hybrid cooking and appliance-charging product, we could easily offset the high cost of electricity for our customers. ACE's products are demonstrating the viability of technological innovations that offer solutions to two global development challenges: access to clean cooking and access to essential communication tools.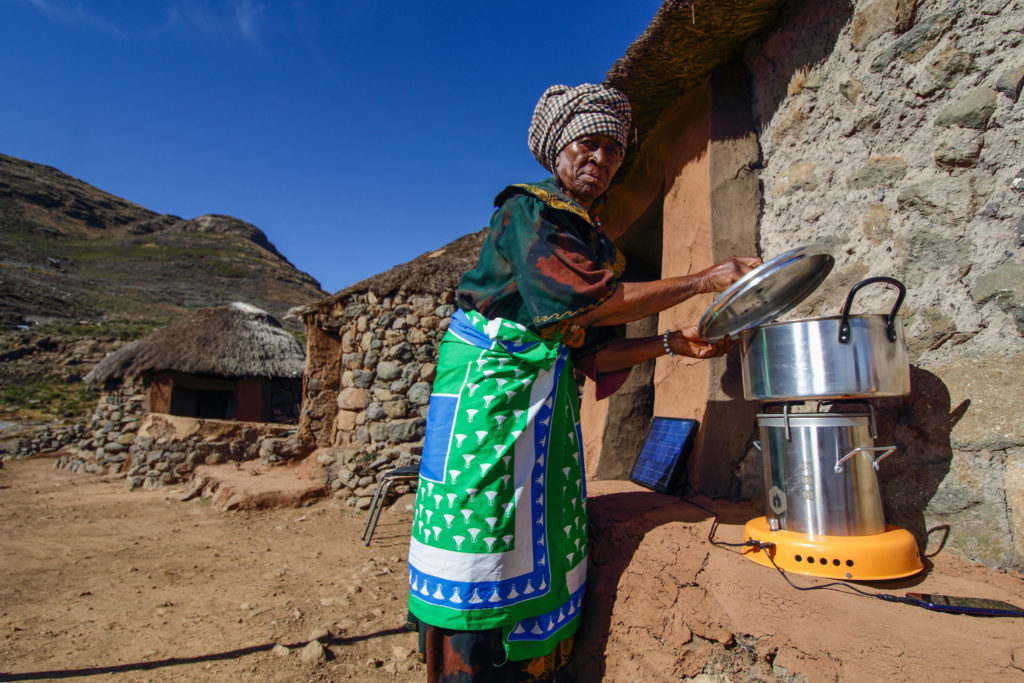 CCA: Can you tell us more about integrating pay-as-you-go (PAYGO) technology into your newest technology, the ACE Connect cookstove?
Walker: The ACE Connect integrates reliable hardware with intuitive software. By using a smartphone app as a communication device for PAYGO technology, we're not only mitigating risk but also empowering our customers through connectivity, which opens doors for amazing things. One of those things is more convenient financing methods. Through this PAYGO technology, our customers are more aware of when payments need to be made and how much fuel they need to purchase.
Additionally, the integration of smartphone software with our stoves enables us to collect data on when customers are actually using our products. In turn, this provides us with beneficial insight into how to better incentivize long-term adoption. Overall, ACE is looking to migrate toward a more complete energy service business model. That way, we can monitor adoption levels, be more specific in our impact and carbon measurements, and more effectively report on and monetize these developments.
CCA: Who makes up ACE's primary customer base?
Walker: We are currently distributing direct-to-customer in four countries: Lesotho, Uganda, Kenya, and Cambodia. Our customer base is largely made up of rural households who have very limited access – if any access at all – to electricity. The families we work with often have not been able to access smartphone technology simply because they're not able to keep their phone charged or it's very expensive to operate. By ensuring they essentially have free solar electricity in their household to charge their phone, it opens up that door to access this technology. We're also looking at how we can make more smartphones available to these households by including them in the ACE Connect package.
CCA: Do you see awareness gaps when it comes to the benefits of clean cooking technology? 
Walker: Realistically, nobody does something they don't want to do unless it's life or death. The problem with clean cooking is that it is life or death but not everyone realizes that. So, ACE is trying to make it easier and more affordable to make that decision to transition to cleaner, more efficient cooking solutions.
Because ACE's cookstoves burn biomass and you can still see the flame, there is a very low barrier to understanding, since everybody can see how it works and how clean it is. ACE also has a team of in-house sales staff that communicates and distributes directly with our customers and markets. They are fully trained in demonstrating how our cookstoves work and explaining loan management options to new users. Once that level of awareness has been reached, there's quite a lot of demand and enthusiasm for our product. The price point can be a barrier, but that's why we have loans available.
"There is not a country in the world that is not a viable distribution market for us. It is a matter of securing the right level of investment."
CCA: Do you have plans to expand to other markets?
Walker: The countries where we operate tend to be less stable. We wanted to create a balance so that if there is a drought in one place, we would keep our company afloat by having operations in other places. Because of the fluctuating impacts caused by COVID-19, being geographically diverse was actually a huge benefit in terms of risk management; we were even able to grow by adding a new manufacturing facility.
There is not a country in the world that is not a viable distribution market for us. It is a matter of securing the right level of investment. The lack of access to finance in the clean cooking sector is one of the biggest barriers to growth.
CCA: Could you tell us about the process of becoming a certified B Corporation, which measures a company's entire social and environmental performance? 
Walker: B Corp certification has become more visible and more important over the last few years but has always been one of ACE's goals. It's a way to ensure internally that we're maintaining our own ethical and environmental goals because we're able to track our progress over time with the B Corp scoring system.
The first time we completed the B Corp Certification process, the majority of our operations were in the Netherlands and Lesotho. Now, our operations have an almost equal divide across four distribution markets and factories. Additionally, because our score was so high, there was an extra verification process. We were given nearly 180 points, which makes us the best-scoring B Corp Certified company in Europe by about 30 points, only 4 points below the highest-scoring company in the world, which is incredibly exciting.
CCA: How has ACE's emphasis on equal hiring practices helped the company succeed?
Walker: At ACE, we think it's so important to have a group of people who have a variety of experiences, backgrounds, and contexts because, together, we can solve more problems. From the beginning, we always wanted to make sure we had a 50 percent gender balance. Respecting and appreciating female leadership is something we've pushed very hard for in every context. I'm super proud that two of our highest-level directors are not only women, but women from the country in which we're operating. At ACE, our biggest priority is being the most effective, inclusive, and impactful company we can be, which you can only achieve with a wealth of diverse knowledge.